Jennifer Wilson Perigord/OTR/L/Occupational Therapist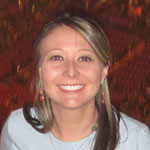 NDT certified and MNRI/RMT trained
Tricia Borsch and the Bridge to Healing foundation are one of kind.  I am a pediatric occupational therapist and I learned about the foundation through a client of mine.  Getting involved with the Bridge to Healing foundation was one of the best professional decisions I have made in my career.
In my opinion, the greatest gift to receive is knowledge and the Bridge to Healing foundation is the only foundation I have ever known of that not only helps families with children with special needs but also helps the therapists who are treating those children.
This foundation is needed more than ever with all the growing budget cuts in therapy programs on education and training, which ultimately affects the quality of care given to children with special needs.  I truly feel blessed to have met Tricia Borsch and to be a part of such a wonderful foundation.  I have been able to attend trainings I never thought I could afford and learn treatment techniques that I never knew existed.   The Bridge to Healing foundation is helping me to develop into the therapist I always hoped to become.