Johnny's Journey
Johnny is a loving, energetic 11-year-old who has been diagnosed with severe autism. Johnny's journey began the summer Hurricane Katrina hit the Gulf Coast where he and his family live. During that time Johnny (age 2) would play with his niece (age 3) in the typical 'partners in crime' fashion! He laughed, talked a lot, and got into mischief like any little boy would do.
Amid the stress and turmoil in the months following Hurricane Katrina his family started to notice changes in their precious Johnny. He no longer wanted to play with his niece or other children, his speech started to decline instead of increase, and he seemed to withdraw into his own little world. He no longer responded when someone would ask him to do something. He was losing words rapidly and interest in normal toddler play even more rapidly.
His family was desperate to find out what was happening to their sweet boy. He still loved to be held and cuddled and was physically healthy but mentally they were losing him. By age 3 Johnny was diagnosed with severe autism and considered 'non-verbal'.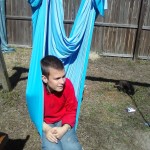 At 11, Johnny still cannot speak and needs help with most daily tasks. His determined Mom has researched and tried out any therapy that might help him, all while dealing with the challenges of being a single parent of four. Many of these treatments have made a significant difference in Johnny's world with everything from focusing to coping with frustration, as well as promoting physical wellness. Unfortunately, all of these amazing treatments — Glutathione, IV treatments, hyperbaric oxygen, Relationship Development Intervention (RDI), supplementation, special diet, and Masgutova's Neurosensormotor Reflex Integration (MNRI) — are not covered by insurance and are very costly.
Johnny is a precious little boy with extreme challenges. He loves going to the beach or doing other fun things with his family and has the most infectious laugh of anyone you will ever meet. He can overcome his disability and lead a full life as many others with autism have done, it will just take hard work and a lot of therapy.
Life is a challenge for any single parent, but the single parent of a child with special needs lives on prayer, desperately trying to stretch her resources far enough to give her son the help he needs.
Your kindness and generosity can truly make a difference in Johnny's life.